The 2023 National Champions and this season's four Grand Prix winners shed a little light on their partnership, what keeps them healthy, and how to strategize through times of trouble.
Training Regimen
Johan: We both do hot Pilates, and ice and stretch. I've started doing Graston Technique therapy to get rid of scar tissue. I jump rope before matches. Overall, it's about injury prevention.
Stephen: I eventually listened to my wife and started doing yoga and Pilates and it's helped a lot with flexibility, balance, and core strength.
On Court Time
Johan: Teaching tennis and pickle and paddle helps with keeping in shape. When we practice together, it's repetitions and cross-court points.
Stephen: We try to hit once a week, just the two of us. We work on a variety of things based on where we think we need to improve. Practicing serves and first volley is one of the most important drills in my mind and when I'm doing that well then I get more confidence and that carries over to the rest of my game.
Traveling + Family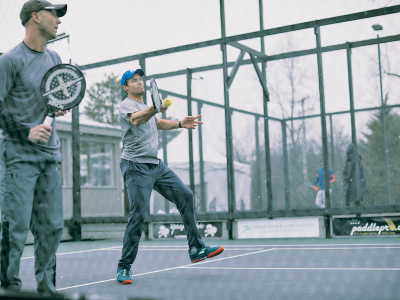 Stephen: We travel together and it's a blast. I'm always looking forward to when we're hitting the road for a tournament because I know we're going to have some good laughs and a few beverages and compete hard. My family is always very supportive, and it's been a lot of fun to have them on the road at some of the tournaments.
Johan: If they aren't with me, the kids always send me a video to psych me up. They are young, so it's mostly something like, "Shoot them to the moon!"
Road to Nationals
Stephen: The main focus for me is to take it one match at a time and break that match further down to just one point at a time. I think it's so crucial to stay in the moment in the game of paddle because the momentum swings can be very quick. Last year's loss was definitely a motivator for me because I had two crucial moments (one in the second set at 3-3 and the other was at 4-4 in the third set) where I played a couple of bad points at momentum-shifting moments right when we had made a comeback to even up both sets.
Johan: We just try to win every match. We try to improve and stay ahead of the curve and get ready around Nationals. Last year's loss (in the semifinals) was a motivator because we were not happy with our performance.
Chicago Notes
Johan: It was cool to have music playing just before the final. It got me pumped up. I was a little flat before that. I also thought I might have been cursed in Chicago—I have played Nationals there three times before and lost all of them, including two in the finals.
Stephen: I love playing in Chicago—the paddle community there is very passionate and it's always a fun atmosphere.
Chicago Conditions
Stephen: The weather in Chicago was a little tricky but not too bad.
Johan: I like cold weather. We only had about 20 minutes of slippery conditions. John and Marc's earlier match conditions were much different. At the final, the snow was light with little effect on the surface. The balls did get bald fast. When the balls lost their hair, they moved funny in the air.
Finals Strategy + Injury Management
[Stephen had an upper leg injury from earlier in the week.]
Johan: My strategy was to lob well and protect Stephen from running. The backcourt was the biggest issue, so we wanted to hold the net more than normal. We didn't hit many drop shots; we wanted to limit too many transitions. It was very satisfying to win because we weren't sure about Stephen. We didn't expect to win and but, in the end, his injury didn't affect him as much as we thought it might.
Stephen: I don't want to get too deep on strategy, but I think we have a couple of options when it comes to playing any team and we'll hopefully be adding a few more for next season. I managed my injury by having the best partner in the game. He was incredibly supportive and patient with me during Nationals. I know it had to be hard for him because he didn't (and at times neither did I) know what exactly I was going to be able to do on the court. I also think we did very well with our lob placement in order to help steer more of the play toward Johan and minimize the amount our opponents could attack me.
National Trophies (6 for Johan; 3 for Stephen)
Johan: Winning titles always gives me a good feeling. I'm just happy to play and it's still fun to compete. But Stephen has the best strike record.